Call 0344 482 5151 to book directly from the theatre or Buy Tickets Online
From Official Tickets Agents
Booking from
Saturday, 16 December 2023
Booking until
Saturday, 9 March 2024
Running time
1h 55m (incl. interval)
Performance Times
| Mon | Tue | Wed | Thu | Fri | Sat | Sun |
| --- | --- | --- | --- | --- | --- | --- |
| - | - | - | 14:30 | - | 14:30 | 14:30 |
| - | 19:30 | 19:30 | 19:30 | 19:30 | 19:30 | - |
The Unfriend
You've been brought up to have good manners but good manners aren't always a good thing, especially when it means you're too polite to ask a killer to quit your house. Pete and Debbie go on a cruise to celebrate their wedding anniversary, leaving their teenaged kids behind at home. While on board they meet Elsa, a widow from the USA who loves Donald Trump but seems okay. Then they make the fatal British mistake of saying, 'let's stay in touch', something we often say but rarely mean. And things start to go horribly wrong. When Elsa turns up on their doorstep and they realise she's deadly dangerous, will they drop the good manners and ask her to leave?
This is a fresh new dark comedy from the writer Steven Moffat and director Mark Gatiss, the award-winning duo who created the BBC's Sherlock series. The Unfriend has already had a great start, scoring a smash hit run at the Chichester Festival Theatre, where it sold out. The audience reaction and reviews were so good it's transferring to the West End. The Unfriend will be on stage in London for a strictly limited season at the Criterion Theatre from 15th January to 16th April 2023. The Unfriend stars Reece Shearsmith from TV's Inside No. 9, Amanda Abbington who starred in Sherlock, and Frances Barber from the hit TV series Silk, plus Michael Simkins, Marcus Onilude, Gabriel Howell, and Maddie Holliday. It's brilliant.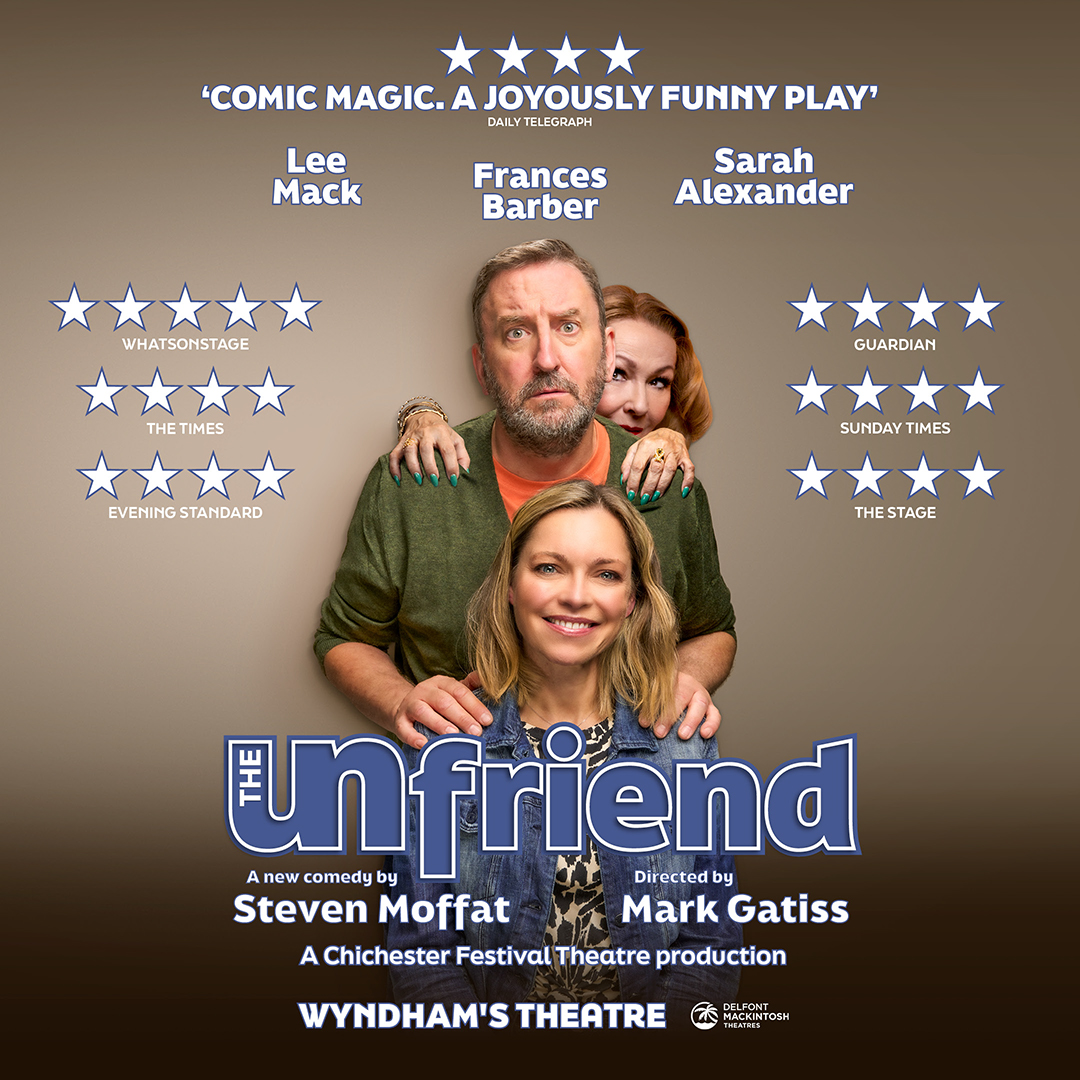 «
»
Audience Latest Reviews
Reviews Summary based on 21 reviews
General:
What to expect
Acting:
Music:
Costumes:
Story:
Lighting:
Recommendations
Anyone:
Families:
Teenagers:
Young Couples:
Theatregoers:
Clever nad funny
Good acting, very witty and funny. An enjoyable day/evening out.
Arta, 25 Mar 2023
Very funny farce and frenetic
Fast faced and hilarious, great acting
Steven, 10 Mar 2023
Funny as f
Dark comedy at its best. Clever, clever writing, but you'd expect nothing less. Nicely topical. Brilliantly delivered by fantastic cast. Laughed so much. Would happily go again.
Annette, 06 Mar 2023
Belly Chuckling!
Really enjoyed this show, laughed out loud throughout - will appeal to all theatregoers - and teenagers would enjoy it too!
Phillip, 03 Mar 2023
Absolutely brilliant
Very funny. Great characters and script. Really good storyline and twists. Right out of the No 9 stable and that's a very high bar. Loved it
Gary, 26 Feb 2023
Unfriend- funny goings on at Number 9
A comedy that makes you chuckle - especially if you're a parent of a teenager- and doesn't resort to cheap laughs through language or sex!
Steve, 23 Feb 2023
Dated
Dated humour. More suitable for a summer reportary seaside theatre show than West End London.
Bridie, 16 Feb 2023
Witty funny
Very pleasant evening! The plot is witty, the set is well designed, the cast is really good,... A very nice play indeed
Jordael, 15 Feb 2023
Funny & unexpected
A fun, engaging afternoon
Jenna, 04 Feb 2023
Funny, good story
The play is very amusing, well written and entertaining. A lovely evening out, would definitely recommend
Cynthia, 24 Jan 2023